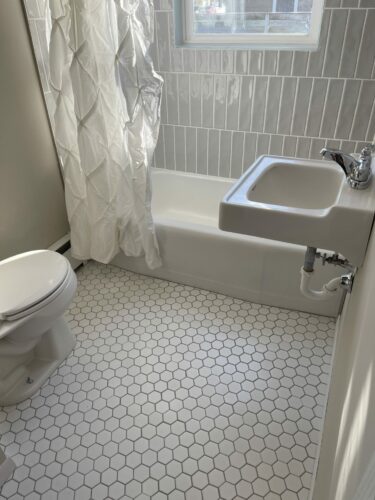 How to make your home worth more on a budget. Simple, quick updates that offer instant equity. 
There are some things you can do to really improve how much you love your home, so in this blog – we discuss current trends that can transform your home to make it a place you can truly love.
In a nutshell – you can never go wrong if you make improvements in two key rooms: KITCHEN and BATH.
For more info, listen to the Just Listed Podcast!
KITCHEN
A big trend right now is two-toned cabinets, so if your budget doesn't allow for new cabinets – it's a great idea to spruce them up with some paint. Often the lighter color is on top, with a darker accent color on the bottom cabinets. Changing hardware is an easy, inexpensive way to make your kitchen look more up-to-date as well. Stainless steel is still a popular choice for appliances and hardware, but don't be afraid to pop in some gold! White appliances are making a comeback as well. Light and bright and clean are always on-trend! Lighting can also make a big difference, and doesn't have to be costly. Think about whether it's going to be a fixture that's easy to see dust or be difficult to get clean. If you're going to leave anything off of your to-do list to save time or budget: skip the backsplash.
BATHROOM
A little elbow grease goes a long way when it comes to sprucing up your bathroom. You probably don't need to switch your tub, your shower surround, or your countertops – just make them shine! The cabinets are also a place that can be painted, and you can update the faucet and hardware for an instant facelift. Don't be afraid to go for a textured wallpaper, or other on-trend styles. Keep the décor on the counter and walls minimalistic and clean-looking. Tuck bins of products that you can access easily out of sight, even if your home isn't up for sale. You'll love walking into it and feel less-stressed without seeing the clutter.
Even if you plan to LOVE your home for a long time to come, making these improvements will help you enjoy it more. And then if you should decide to LIST it – you'll be ready! And of course whenever you are ready – WE SELL FASTER!